Itinerary
Day 1: Getting to the Base Camp at Manebhagjung
Manebhagjung is a small village situated at the exact border of India and Nepal. You standing in the middle of the road of Manebhagjung would be perfect middle of the border of the two countries. The place has a small market as well which is very fascinating to observe sometimes. The stay is basically on sharing basis and a day is spent for acclamation.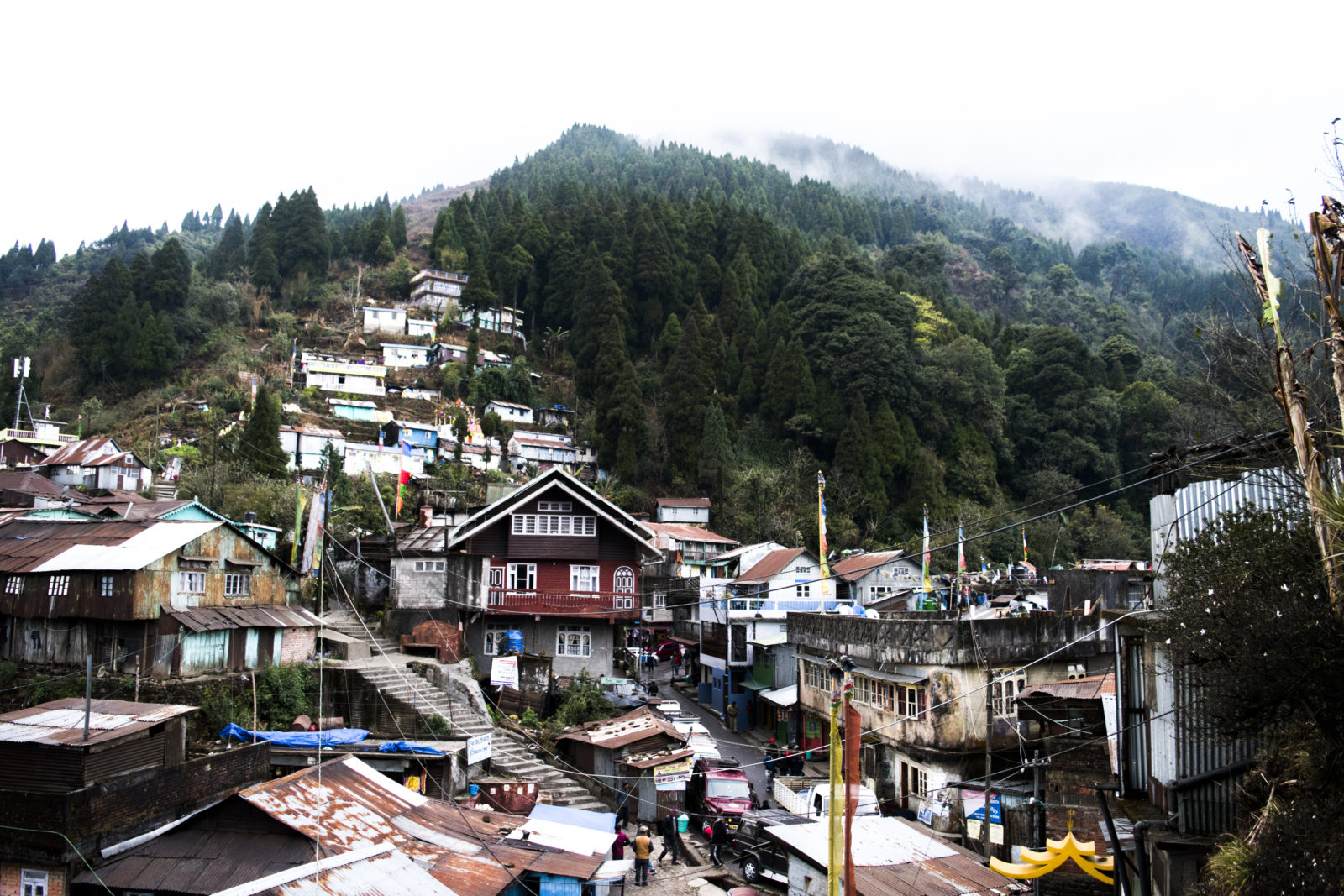 The closest airport is Bagdogra and NJP (New Jalpaiguri) is the closest railway station to the Base camp. The cost of the travel from NJP or Bagdogra is borne by the trekker. (A week prior communication is required for cab booking) It usually cost about Rs. 3500 per cab for 5-6 people. The Travel time is about 4-5 hours to the Base Camp of Nature Walkers.
Day 2: Tumling
Tumling a small village is 5-6 families. The route is Manebhagjung to Tumbling crosses three beautiful village on the way. Chitrey (1.5 hours), Lamyadhura (3.5 hours), Meghma (5 hours). These could be the water sources on the way. Although we request everyone to carry their water bottle with them. Also, we would be having our lunch on the way to Tumling at these checkpoints.
The initial track is a road till Chitrey which is about 2-3kms to the Monastery. From here the road converts into mud and rock road. The trek is categorized as easy to moderate but sometimes rain might make the trek more difficult. So, it is advice to reach the destination prior late noon as the weather becomes bit foggy and we can avoid mountain shower. There are a few rocky paths (gravel roads) with muddy sections and a few walks through meadows as well.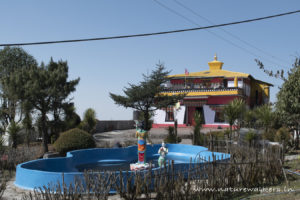 From Chitrey to lamyadhura, the trail is little steep with zig-zag track. Although there are small concrete short cuts to cut the road but they are little steeper than the zig-zag track. This trail goes through many paper plants (local use the plant for making paper), rhododendron plants and many different species of flora by the side of the trail.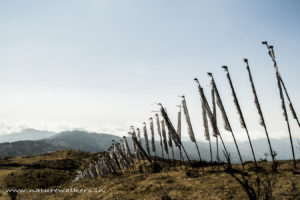 At Lamyadhura, the view opens up to the lovely meadow. This would a small halt for us. A small family lives here in there cozy tea house, living on their daily income from the passers-by. Many traveller also travel through jeeps from Manebhangjang to Sandakphu or Phalut through the motor road. It could also be used for direction if ever you feel off track.
The Next stop would be at Meghma which is about 3-4km hike from lamyadhura. It is not as steep as the previous walk of the day. Do keep your eyes by the side of the road its offers an amazing view of mountains and valleys. Before reaching Meghma, we would pass by a SSB check post (Do keep your visa/ID for verification). From here, the lunch point in meghma is about 5 mins walk by the side of Meghma Monastery.
From here the next village is Tonglu, which is to the right from the midway diversion of Tumling Road. Although you can skip Tonglu and reach Tumling but Tonglu gives a panoramic view of snow-covered peaks such as the Kanchenjungha, Pandim and the Makalu, a picturesque trekkers' hut and solitude — Tonglu promises much and delivers for the most part.
The next village is Tumling, the day's trek ends here. Tumling falls on the border of India and Nepal and also, gives the best view of shining Kanchenjunga (Sleeping Buddha) during morning sunrise. The most amazing view as the sun raise would sparkle on the peak of Kanchenjunga illuminating the whole surrounding with its magnificent beauty.
The morning view of Sleeping Buddha is clear and distinctive from Tumbling. The Kanchenjunga range is called sleeping Buddha for a reason of its shape. The Mt. Kumbakarna peak makes it nose, forming a human face, Kanchenjunga peak makes its body and Mt. Pandim makes its feets. The other peaks you see near the belly peak (Kanchenjunga peak) are Kabru North to its left and Kabru dome to its right are the main members of the range. To the left of Kabru dome comes three different peaks (Ratong, Koktang and Kang) followed one after another till the Kumbakaran peak. After follows the Kabru Forked to the right of Kabru dome, and then comes the Guiche-la to the right. In between Guiche-la and Simvo peak comes the Zemu Gap, and at last come the Pandim peak at the right foot of the range.
After leaving tumling, you will enter the Singalila National Park (check post to make and entry). Nature Walkers would already obtain the permission for the trek so an entry would be sufficient. The next trail is through jungle hiking route which will lead you into Nepal and through it to Gairibas. Do look out for pandas here as there is a maximum chances of finding one. The next stop serves the best chai and momos here. Gairibas also has a SSB Check post (Please keep Visa/ID for verification).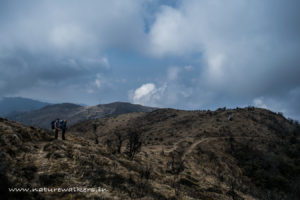 Kalapokhri is about 6 kms from Gairibas through Kaiyakatta, which is about 3 kms of little steep climb. The trail goes through motor road although vehicles are not allowed on this road. The next stretch is very scenes and one can find different species of bird on this. After about 2 hours of muddy road walk, you will reach near the black-water- Lake in a shape a foot, nicely decorated with Buddhist prayer flag. Well you have almost reach our destination of the day. Kalapokhri is actually named after this lake. In Nepali language, Kala means black and pokhri means water, so is the name originated. The is a small Buddhist temple at the head of Lake. When you are hear do look or ask for a small cave at the foot hills of the hill surrounding the lake.
Kalapokhri village is on the border of India and Nepal. 10 mins walk from the lake will take you to hot chai and meal at our final point of the day. One should definitely take this opportunity to explore the morning view of this place as it gives you the best view of the valleys towards Nepal side.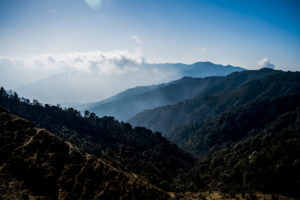 Day 4: Sandakphu
It would an easy start from kalapokhri to bikheybhagjang (valley of poison) (In nepali language, bikhey means poison and bhagjang mean valley), The name of the place was derived from a poisonous aconite plant which grows in abundance here. These flowers plants can also be sited in the "Valley of Flower" in Uttarakand. It is also another beautiful trek one should venture on.
After taking a break at bikheybhagjang, our next stop would be sandakphu, which lies ahead for about 4 kms through steep inclined and zig-zag trail. One has an option of exploring through Nepal side as well although the distance would be comparatively longer than the other route. The route from india side is little more steeper but its more popular for this scenic view of snow covered valleys and mountains.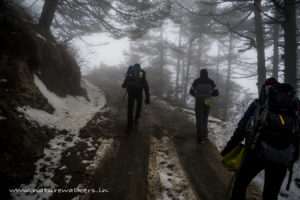 It would take an hour or two to reach sandakphu from bikeybhagjang till you reach a level road. Although it is not advice to take short cuts here but there are some short cuts that could be taken with your guide's advice.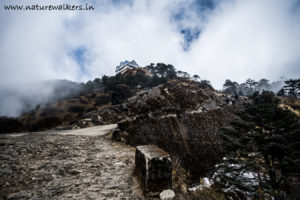 After taking a left after the final stone bridge will take you little steep and muddy road, which will end up to our final destination of the day –"Sandakphu". You could find many tea house, small tea and snack stall around here.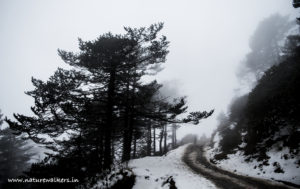 Taking the muddy road by the end of the tea house would guide you to our campsite.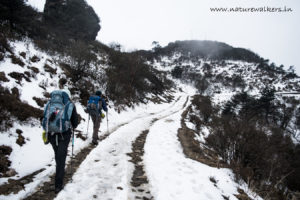 The campsite is exactly on the border of India and Nepal because of which you can choose to camp at either sides of the border.
The morning sunrise view of the annaporna range from the campsite is very beautiful and mesmerizing. It offers a complete 180 degree panoramic view of the world's tallest mountains in the background. The sleeping Buddha stands tall towards your east side followed by the three sister towards its west and Makalu,Lhotse, Everest, Nuptse, chamling, chomolonzo and several other peaks towards the eastern side. The ariel distance of Mt Khanchenjanga range is said to be about 11 kms because of which the mountains would look like standing before your eyes reflecting glittering sparkles of sun raise at its peak.
Do check the Gallery for more amazing photos from this spot.
Day 5: Sabargram
Today's trail is more colourful than any other day of the trek as the trail goes beautiful rhododendron gardens. Well it's a natural garden though. In terms of beautiful scenery and diverse flora and flona, this trail have many things to offer like snow covered valleys, meadow walks, on the ridge trail and many more.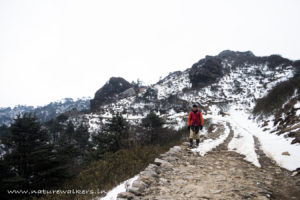 You will be keep on gaining and losing altitude today for an hour till Thukumb check-post. The total distance from sandakphu to sabargram is about 14kms in which you have option to trek through Nepal side as well. It is advice to look for the junction point of the road if you ever feel lost on the trail.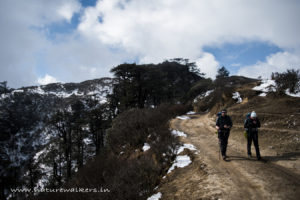 After coming back to the main trail of sabargram, it would a little steep ascend till you reach our next campsite at Sabarkum.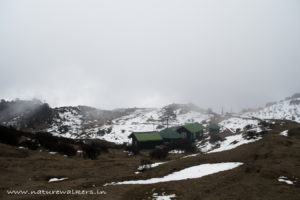 Day 6: Gorkhey through Phalut
Phalut is about 7 kms from Sabarkum and it has the best of Kanchenjunga. Although you might not able to see many peaks of Annapoorna range but the Kanchenjunga peak would dazzle your eyes with its magnificent beauty.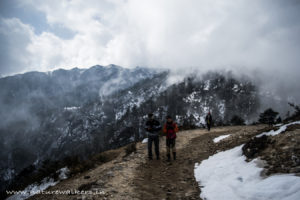 Initially the route has several ups and downs till you reach a meadow walk of about ½ km. After which it is about 1km steep ascent. Walking on the side ridge for half and hour would take you to our rest point at Phalut. Please note, Phalut is windier because of which the you might feel this place more cold then other campsites. The view points on the hillock to your left. Reaching before the late noon would give a panoramic view of the mountains and peaks of the range.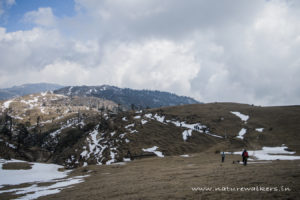 Our check post is forest guest house at the right of the main trail. Many trekkers also choose to stay at these check post but we would be carry our journey to Gorkhey.
It's time to descend. The next trail would be little lengthy (about 14 kms) but would be easy compare to any other routes of this trek. On course you will keep on losing altitude and the trail would take you to zig-zag forest route and then through thin bamboo jungle. These bamboos are the major source of food for red pandas because of which this route also has the maximum probability to spot a panda.
It is also the most relaxing walk of the trek the trail goes though proper muddy route surrounded by green vegetation and valleys, also you can see Pandim, Tenzingkhang, Japanu, and Narsing in the background.
Please Note: this routes has many short cuts but it's not advisable to take short cuts as it could be made by wild animals in search of water and food. And taking them might lead to wrong direction or different village.
The final stretch of the trail is a steep descent to Gorkhey village. One must take a moment to observe the beauty of the valley once you are off the dense jungle. The view of the valley looks more like a painting – as the village has beautiful water stream, farm lands, small houses, long pine cone trees, small bridge to cross the stream. The Left side of the steam is Sikkim and right is West Bengal.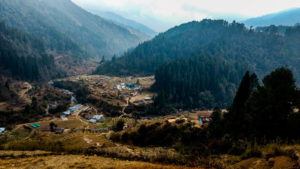 The best thing to do in Gorkhey is to explore the village, the water steam and peas and potato farms.
Day 7: Sepi
Crossing the bridge give you a surprise ending trail of the trek. The last stretch of the trek is through the village and into the jungle through little steep ascent. It is the least discussed route because of which one always get surprised by its beauty. In April and May, you can see several variety of rhododendron flowers and Chestnuts by the side of the trail. Our next stop would be at a small tea house at Ramman next to a school. The view from this place is just amazing as you could see beautiful valleys towards the Sikkim side with roads and houses built on the edge of the hill.
After tea and snack, we would continue our descend through nicely decorated homestay and pea gardens till we reach the Srikhola bridge. Crossing the bridge guides you to an ascent till we reach our destination – Sepi. We are expected to reach Sepi before noon for our hot lunch.
After the lunch, you can depart to NJP/Darjeeling. Nature Walker would be arranging the vehicles on demand. It usually take about Rs. 5.5K for – 5-6 people per cab to NJP which is bared by the trekker. The expected time to reach NJP is at 8pm so, we request you to do your onward booking after 8pm.
Sandakphu trek teaches us to be strong, patient and it definitely ignites a spark to explore this world with an objective.
One might say – This trek leaves you speechless but then turns you into a story teller.
Things to Carry
Trekking shoes: Not sports shoes. The shoes need to have soles with good grip and ankle support. We recommend FORCLAZ 100 and 600 from Decathlon. Wear the shoes for a week prior to the trek to avoid shoe bites/blisters on slope.
Backpack (40-60 litres): Backpack with sturdy straps and a supporting frame. Rain cover for backpack is essential.
Clothes
Full sleeve woolens (2 pairs including the one you are wearing):We endorse fleece over wool as it is light weight, compact and warm. It is better to layer your clothing with multiple light sweaters than to carry one thick heavy jacket.
Thick jacket: Carry 1 full sleeve windproof jacket/down jacket.
Trek pants (3 pairs including the one you are wearing): We highly endorse synthetic quick-dry pants as they are light. Plus, when it's cold you can wear one over the other. While trekking, a pair is what you would carry apart from the worn. You could keep the third pair for your return journey. Alternative would be cotton pants with many pockets or track pants. Jeans, shorts and 3/4 pants are not suitable for trekking.
Collared t-shirts (3 pairs including the one you are wearing):Preferably light, full sleeve t-shirts that prevent sun burns on the neck and arms. Avoid loud colors that would distract birds and animals.
Thermal inners: 1 pair of lightweight, upper and lower. Thermal inners are optional for those who are more sensitive to the cold.
Accessories
Sunglasses: Curved ones will cover your eyes well. No blue coloured sunglass — they don't block UV. Blacks, greens, browns are fine. Avoid multi tone sunglasses. Sunglasses are to prevent snow blindness. People who wear spectacles, choose either contact lenses or photo chromatic glasses. If both are not possible, wear your spectacles and carry big sunglass that can be worn over your spectacles.
Suncap: To protect your head from the direct heat of the sun, protect your face and neck from sunburns. The cap must cover your ears and neck.
Synthetic hand gloves: One pair of fleece or woolen hand gloves. One pair of water proof/resistant, wind proof gloves.
Balaclava: . You may use scarves as an alternative to balaclavas.
Poncho: A lightweight poncho is preferred because unlike raincoats, it covers your rucksack as well. A poncho is indispensable for the Tarsar Marsar trek as light showers are expected
Socks (3 pairs): 2 cotton pairs, 2 woolen pairs (mostly to be used on campsites and while sleeping. Keep them dry.)
Headlamp/LED torch: Mandatory
Trekking Pole: Trekking pole is mandatory.
Others
Daypack (20 litres): It is mandatory to carry a daypack if you choose to offload your backpack. If you decide to carry your backpack, day pack is not required.
Toiletries (Sunscreen – SPF 40+, moisturiser, light towel, lip balm/chap stick, small soap, toilet paper)
Repair kit (needle & thread)
Camera: Carry all accessories – spare batteries, charger, etc.
Cutlery: Carry a spoon, coffee mug and a lunch box. We insist on trekkers getting their own cutlery for hygiene reasons. To save weight, you may use your lunch box instead of carrying a plate separately.
Water bottles: 2 bottles, 1 Litre each. Packaged drinking water bottles like Aquafina, Bisleri and others are not allowed.
Headlamp/LED torch: Mandatory
Plastic covers: While packing, use plastic bags to compartmentalize things and carry few extra plastic bags for wet clothes. While packing, use plastic bags to compartmentalize things and carry few extra plastic bags for wet clothes.
Mandatory Personal Medical Kit
Diamox – 10 tablets (to prevent AMS)
Crocin – 6 tablets (fever)
Avomine – 4 tablets (motion sickness)
Avil 25mg – 4 tablets (allergies)
Combiflam – 4 tablets (Pain killer)
Disprin – 6 tablets (headache)
Norflox TZ & Lomofen– 6 tablets each (diarrhea)
Digene – 10 tablets (acidity)
Omez/ Rantadine – 10 tablets (antacids)
Crepe bandage – 3 to 5 meters
Gauze – 1 small roll
Band aid – 10 strips
Cotton – 1 small roll
ORS – 10 packets
Betadine or any antiseptic cream
Moov spray (aches, & sprains)
Mandatory Documents
Please carry the below documents. Document two and three need to be downloaded (PDF), filled in, signed and handed over to the trek leader at the base camp.
Without these documents you will not be allowed on the trek.
1. Original and photocopy of government photo identity card- (driving license, voters ID, etc.)
2. Personal Certificate, and disclaimer (to be filled by the trekker) Click here to Download Form
3. Medical certificate (to be filled by a doctor) Click here to Download Form